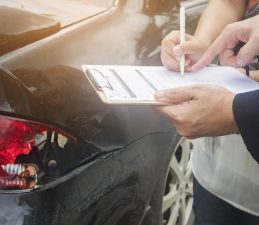 What to Do If You've Been in a Car Accident
You can be the safest driver in the world, but you might still find yourself involved in a car crash. You cannot control the actions of other drivers, so it is important to be prepared and know what to do should another vehicle crash into yours. You should take certain steps to protect your rights to compensation from liable parties, and the following are some steps that are recommended after a car accident.
Always Stay Prepared Ahead of Time
There are things you can do before an accident ever occurs to protect yourself, including:
Always have your driver's license, registration, and insurance card with you

Have a safety kit in case of inclement weather, or should someone need first aid

Keep a copy of this checklist in your vehicle
At the Scene of the Accident
Even relatively minor crashes can be traumatic, and this can cause you to become overwhelmed in the aftermath. You should take some deep breaths and remain calm if possible, as this can help you follow the steps you need to take. These include:
Move your vehicle out of traffic if you are able to, but don't stray too far from the accident scene.

Assess whether you think you suffered any severe injuries. If so, try not to move around too much. If you or anyone has any injuries at all, call 911 or make sure someone else does so. 

When paramedics arrive, allow them to assess your condition. If they recommend ambulance transportation, heed their advice.

Speak with the police when they arrive. Give them your version of what happened, but don't say anything like "I'm sorry," which could indicate you are taking blame. The officer should document everything in a police report and issue citations if they believe the other driver violated the law. 

Make sure you get the contact and insurance information for other drivers and contact information for any witnesses. 

Don't sign any papers presented by the other driver or allow them to photograph your information. 

Use your smartphone to take video or photos of the entire scene. 

Don't leave until the police clear you to do so. 
After Leaving the Scene
Once you are cleared to leave the scene, keep following important steps to protect your health and legal rights:
If you think you have injuries, head to the emergency room or urgent care for a medical evaluation.

If you receive a treatment plan for injuries, follow it can keep notes on all your treatment. 

Inform your own insurance company of the accident and that you do not believe you were at fault. 

Obtain a copy of the police report. 

Get an estimate for property repairs.

Don't give the other driver's insurance company too many details other than basic identifying information, and never accept an insurance settlement without legal counsel. 

Contact an experienced Indiana car accident attorney who can advise you on how to proceed.
Consult with Our Indiana Car Accident Attorneys Right Away
You might have rights after a car crash, but you have to do whatever you can to protect them. This starts by following the above checklist and then calling the Law Offices of Arshad, Pangere & Warring LLP. Our Indiana car accident lawyers are here to help, so contact us today.