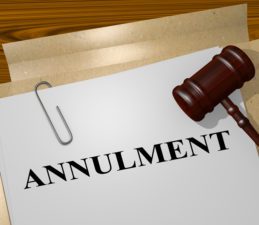 Jurisdiction and Venue in Annulment Proceedings
Annulment is a legal proceeding initiated to terminate an invalid marriage and to declare that no valid marriage ever took place because of a problem existing at the time of the wedding ceremony. The basic difference between a divorce and annulment is that divorce dissolves a valid marriage, an annulment proclaims that there never was a valid marriage. Annulments are rare compared to divorces, partly because of the wide availability of no-fault divorce.
The main grounds for obtaining annulments are fraud, physical incapacity, non-age, force or duress, mental incapacity, bigamy, and consanguinity.
Jurisdiction and Venue
The parties must establish proper jurisdiction and venue in order to initiate an annulment action. Usually, to obtain the jurisdiction and proper venue, the courts of the state where the parties were married have jurisdiction in an annulment action. In most states, if one of the parties wants to bring an action in a state court, that party must show that one of the parties has been residing in that particular state for the required period. Alternatively, a state has jurisdiction if either party has met that state's residency requirement. Venue is established if the party seeking the annulment of the marriage has met the domicile requirements within the court's jurisdiction.
The courts of a party's resident state have the authority to annul a marriage performed in another state if the marriage would have been invalid in that other state or if the marriage violates the resident state's public policy.
Under certain circumstances, the non-filing party may assert defenses that are not unique to annulment actions. As with any lawsuit, a defendant may raise the defenses of lack of jurisdiction, improper venue, inappropriate remedy, or lack of notice.
Arshad, Pangere & Warring, LLP offers consultations. For an aggressive and effective legal team to advocate on your behalf, call the firm at 219-736-6500 or use the convenient online contact form on this site.